What is Pokémon TCG Online?
Pokémon TCG Online was released on March 24, 2011, and is available for Windows and macOS computers, as well as Android and iOS smartphones.
The arrival of the Trading Card Game Online was a way to expand the number of players and make the game more accessible for casual gamers for those who would like to test the mechanics before starting their Pokémon collection.
There are countless reasons for you to venture into this online Pokémon journey. The game is very inviting, both for veteran players and beginners alike — and it doesn't matter whether you already play with physical cards or not.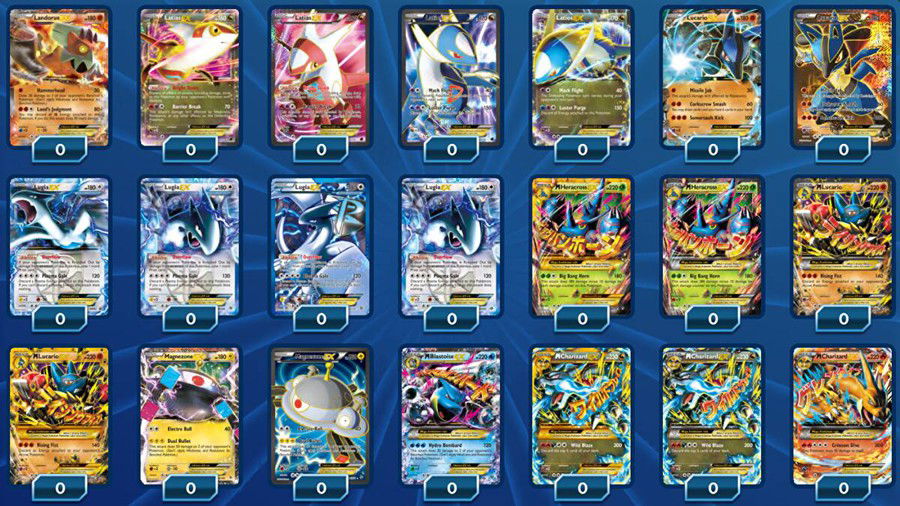 You can start your game through the online TCG, or you can use it as a complement to your physical card game since it's easier to find players to train that way, especially for those who live in small towns, where it is more difficult to find licensed stores and tournaments.
TCG Online was a way to expand the card game to a wider audience, making it more accessible and also a way to encourage traditional players to purchase more physical cards, considering that there are prizes in the online game that are correlated with purchasing booster packs and themed decks similar to tabletop decks (i.e. the same cards you would buy in real life will be present in these digital decks).
How to play Pokémon TCG Online?
The rules of the online game are the same as the rules of the tabletop card game. It is also divided into different tournament formats. The main difference is the ability to purchase booster packs without spending the money out of your pocket.
To create an account and start playing is extremely simple, just provide an email, create a password, download the game and that's it! You will be able to play the game online for free!
If you are still new and want to understand a little more of the basic rules, click here
to read our previous article on getting started with the world of Pokémon TCG, where we explained card types and basic rules.
How to unlock new Boosters
Boosters are what all players are looking for to try their luck at acquiring rare and powerful cards, or for the simple pleasure and fun of opening them and collecting digital cards.
They can be purchased either for free or through physical card purchases, as physical booster packs come with promo codes, so you can redeem game envelopes online as well. That is, for each tabletop booster you buy, you will be purchasing 1 physical booster and 1 digital booster.
Interesting, isn't it?
How to get free Boosters in Pokémon TCG Online
Daily Challenges
One of the ways to unlock new envelopes is through the daily challenges that are constantly updated in the game. There are simple, intermediate and advanced challenges.
They can involve several tasks, such as "dealing 200 points of damage in a single turn", may seem like a lot, but with a Pokémon VMax you can reach this level without much difficulty and guarantee a reward booster.
The daily challenge is certainly the easiest way to earn Boosters, but in addition to that, there are other free ways that can be a little more challenging. One of them is to buy them using in-game currencies, which can be obtained through your play. They can be used to purchase decks as well, but these are considerably more expensive.
Login Rewards
In addition to the challenges, you could also collect coins to purchase boosters through the login rewards system.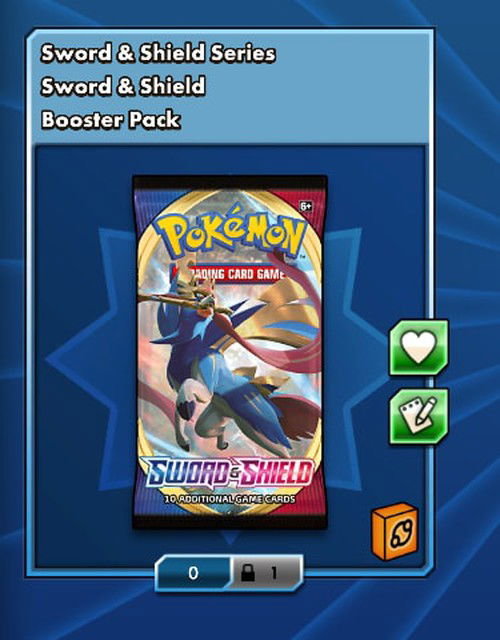 Versus Mode
Another way to win prizes in booster packs is by accumulating points in versus mode. There, you will be able to earn specific cards, boosters and other promotional items according to your accumulated score. And even better, if you manage to accumulate the maximum score, you will even receive V or VMax cards, which are the most powerful Pokémon in the game.
The rewards list with versus mode score is reset every 3 weeks, and the first prize on the list is easily obtained, just win a match to earn 10 victory points, which results in the prize of 25 coins. The second prize requires 30 points, and considering that each win is worth 10 points, it means that you will have to win 3 matches to reach the second prize, which will earn you 50 coins.
This means that whenever you win 3 matches in the same challenge session, you will accumulate 75 coins.
Daily Rewards
In addition to the 20-day rewards session, there are also daily rewards, which stack up to the twelfth win of the day. The first and second daily wins result in surprise gifts, the third win gives you 10 coins, the fourth plus a gift, and the fifth wins you 20 coins. If you achieve the 12 daily wins, you will earn at least 165 coins per day, not counting the other bonuses related to monthly challenges or login rewards.
It is important to note that even after the 12 wins you will continue to win daily prizes, but from the twelfth win of the day the prizes will be 5 coins per game.
Taking all this into account, if you get 12 wins a day, in 3 days you will be able to buy a deck, as they cost 500 coins, and in addition to the 165 coins daily for 12 wins, you will also receive the monthly win prizes, which will generate a little more than 500 coins if you follow the schedule of 12 wins per day during the first 3 days of play.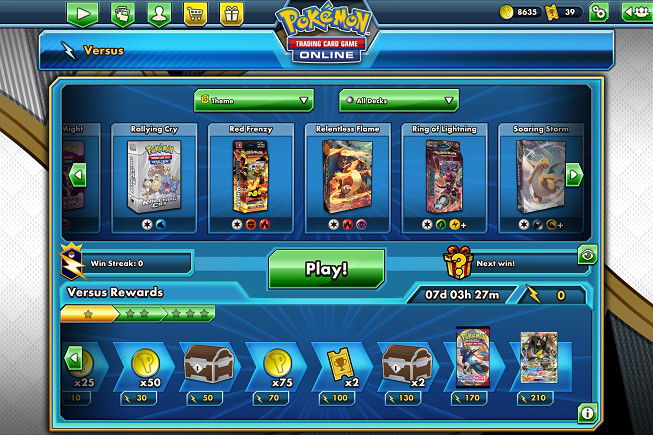 The more experienced the player is, the more boosters they will get, as they can acquire envelopes by the easiest and also the most difficult methods.
Tournaments
Another way to win envelopes is through the Tournaments mode, there is a wide variety of rewards ranging from tokens, chests to booster combos.
Depending on your tournament placement, you could win 1 to 3 booster packs.
Online Prizes for Physical Card Collectors
If you collect physical cards, we have great news for you. There are rewards for all types of physical items you purchase.
If you buy a deck, you will receive a code to unlock the same deck in the online game, and if you buy a Booster Box you will receive a number of codes proportional to the number of packs contained in the item. There are also special codes, as in the Elite Trainer Box that have promo cards, and this goes for any other special item, which will provide a code referring to the item's promo card for you to unlock the same card in the online TCG.
That is, if you purchase a booster box of 36 packs, you will receive 36 codes, which means that you will receive 36 boosters on TCG Online. And if you buy an Elite Trainer Box, you will receive a smaller number of codes than the Booster Box, but you will receive special physical items for collectors, in addition to 1 special code, if the set has a promo card.
How to redeem my rewards through codes
To redeem Boosters online, simply pick up the codes purchased from the packs you opened, and access the code redemption tab in the online game, which is represented with a gift symbol.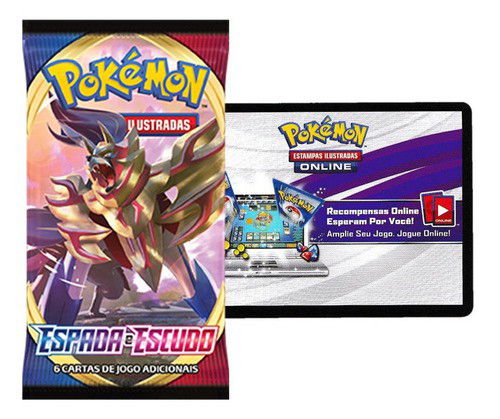 Once this is done, you will be able to enter the codes obtained manually or use a webcam to read the QR code that is contained in the card with code for online rewards. Each code can only be used once, and will guarantee your reward once redeemed.
The fastest way to accumulate cards in the online game is to buy physical cards and complete the challenges of the online game, to accumulate two methods of releasing Boosters.
What can I buy with in-game coins?
Accumulated coins can be used to purchase packs and decks online, as well as promotional items such as chests, skins, and other collectibles. It is important to note that there is more than one type of booster to purchase, just like physical cards, the online TCG is also divided into expansions and collections.
That is, you will be able to purchase a huge variety of expansions from the Sword and Shield collection, being able to choose the one that suits you best.
Price of Boosters and Online Decks
To purchase boosters and decks online through coins, it will cost 200 coins to get 1 booster pack, and 500 coins to get a deck.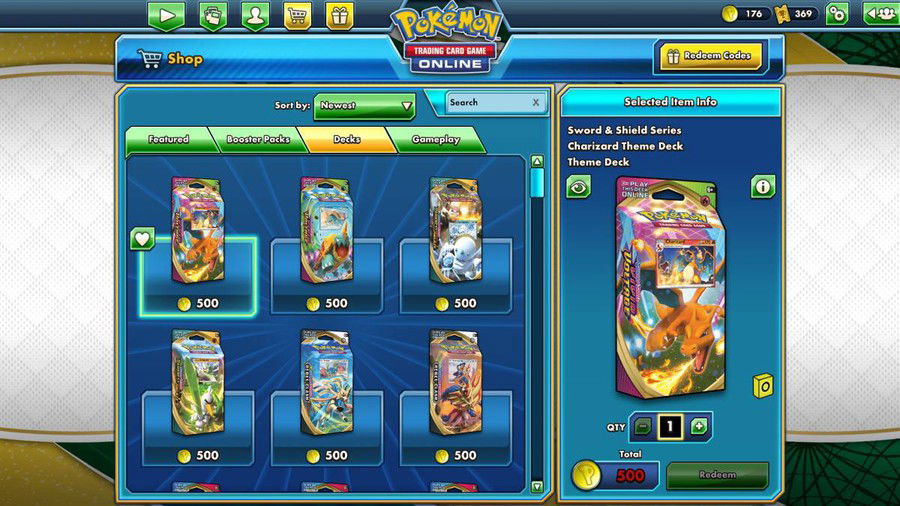 There is a vast variety of decks and boosters. The most recommended thing is to buy a deck initially and then focus on booster packs to replace certain cards and strengthen it. Once you have enough cards, you can build a deck focused on the Metagame (tournaments).
If you're just starting out, it's best to choose decks from the latest expansions, as the latest cards tend to be more powerful. That is, if you intend to build your first deck, try to choose a deck that is part of the collection Sword and Shield.
Trainer Challenge
The Trainer challenge is an offline campaign, where you will find pre-set trainers to challenge, and their level ranges from beginners to advanced opponents. It's a great way to develop your skills without having to play online.
Versus
It is the most used mode to face other real players. It is based around dueling against random opponents, and unlike the Tournament mode, Versus is much more casual.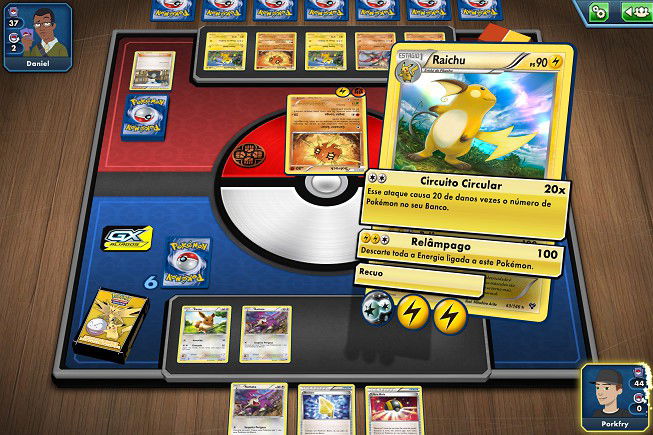 It's quite interesting to test your skills against real trainers, which differs greatly from CPU-controlled opponents.
By accumulating victories in Versus, you will be able to claim numerous prizes, which can even generate new boosters for you to open!
Online Tournaments
Tournaments are recommended for more experienced players, and usually take place in 3 formats: Standard, Expanded and Theme.
If you still don't have much experience and still want to participate, the most recommended format is Theme because it is more limited and has more balanced cards, preventing large differences in levels between decks because they are pre-defined.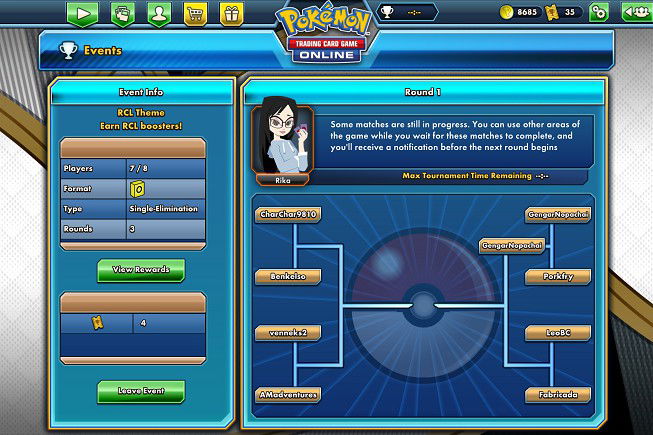 Tournaments are made up of 8 players, and rewards are given to the first, second, third and fourth place proportionally to their ranking. To participate in the tournaments, there will be a price ranging from 4 to 8 tickets. Tickets are free and can be obtained through daily challenges.
Formats
Pokémon TCG formats are Standard, Expanded, Theme, Unlimited and Legacy.
The Unlimited format allows the player to use any card in their deck, with no limitations regarding the year of the card or expansion.
As for Expanded, the player will have the opportunity to use any card after Black and White and Heart Gold and Soul Silver.
The Standard, which is the most used format, will have the limitation of being able to use only the cards within the current rotation rule
, which is updated annually, that is, you can only use the latest cards, which includes the Sword and Shield set and its expansions.
The Theme format is limited to themed and pre-constructed decks, which favors beginners as it increases the balance of matches.
Regarding Legacy, it will only be possible to use cards from Black and White and Heart Gold and Soul Silver, and no other expansion.
Available expansions in TCG Online
Pokémon TCG Online has all cards starting at Heart Gold/Soul Silver and Black/White. Which means you'll have the option to collect all cards released from this point forward.
The current collection revolves around Sword and Shield and its respective expansions. But even so, there are modalities in which you can use previous collections.
And this occurs in the expanded format, which allows the player to use the cards released from the Black and White, that is, you can mix almost all the cards available from the TCG online within this format.
For more tips and information about the TCG universe, keep following our articles, Cards Realm counts on you, Pokémon Masters!