Hello everybody. I'm Rodrigo, bringing news, curiosities and information about the Pokémon TCG. In this article, I will address a crucial topic: the end of the Pokémon Trading Card Game Online, the famous PTCGO, which will be discontinued on 06/05/2023.
As this news was sudden, almost a little over a month before people migrated from the game, there are still doubts about it.
How will your collection look within the Pokémon TCG Live? What about tickets that have been hoarded for years, and what about trading coins? What expansions will be available in the game? Pluses and minuses and everything in between. I'll talk about all of that here!
Remember that we already have an article about the differences of PTCGO with PTCG Live
to answer different questions. In today's article, we will focus on migration and its details.
How to spend and where to spend game coins?
On the TCG Live platform, this exchange currency format will no longer exist, such as the famous gold coins for purchasing booster packs and digital theme decks, for example.
The new gold coins will only be for purchasing accessories for your character, which does not change your experience in the card game itself, being the character's aesthetic part only.
What are the "trading currencies" in TCG Live?

Purple crystals are used to purchase digital boosters in the game.
The white crystals with yellow tones will play the role of commercialization to create cards, the "crafting" of cards, as shown in this table with their values:
- Common: 40
- Uncommon: 100
- Rare: 425
- V Card: 750
- VStar Card: 1025
- VMax Card: 1025
- Full Art Card: 1250
- Full Art Gold Card: 2000
How can I earn more crystals from crafting cards?
Ideally, you should have at least 125 booster packs of any expansion sealed in your account in your PTCGO account to create these points.
It is recommended that you purchase Sword/Shield: Celebrations digital codes to be able to do a specific method to have this credits support, needing to complete the entire collection in both the classic and base version of the set, having four copies of all the set's cards.
And with this tip about the Celebrations expansion, there is the tutorial made by Zapdos TCG, where he shows the step-by-step on how to make this transfer from PTCGO to PTCG Live with the resources' optimization.
Is it worth playing the VS Ladder? Why?
Yes, because with only one month accounted for, until the date of publication, we are in the daily reward of Origin Forme Dialga V, Origin Forme Dialga VStar and Adaman.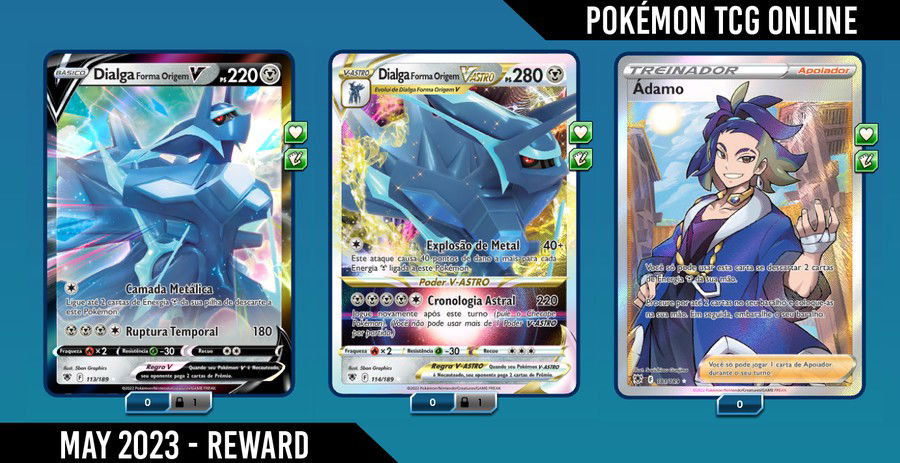 And playing the VS Ladder, we'll fill the load bar of the day, with 12 victories with the following prizes:
1) Surprise gift
2) Surprise gift
3) Ten gold coins
4) Surprise gift
5) Twenty gold coins
6) Thirty gold coins
7) Surprise gift
8) Fifty gold coins
9) A ticket
10) Fifty gold coins
11) Surprise gift
12) Five gold coins (can be accumulated every five if you manage to fulfill the twelve victories of the daily load).
In addition, within the rankings, you earn rewards in the three levels of difficulty of the requirements of each load when completed, receiving a prize based on the level of accumulated energy. The boosters for this season are Sword/Shield: Silver Tempest, with the possibility of Lugia VSTAR SIT 139, a fundamental card for those who want to play in the current Standard.
Remember that Scarlet & Violet's codes aren't read in PTCGO, and can only be read in PTCG Live!
Tickets earned in daily rewards mode: how to spend them efficiently?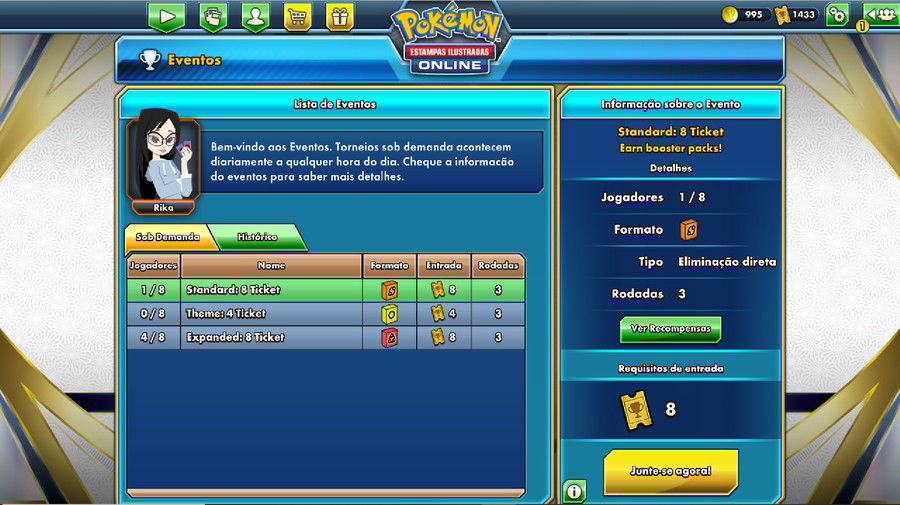 Initially, there will be 3 game modes:
- Standard.
- Expanded.
- Theme Deck.
I strongly recommend you spend them in Theme Decks mode, to avoid problems against opponents using Expanded or Standard decks, as there are long game minutes. But there is also the problem that lately there are few players in Theme Decks mode, so creating the match "lobby" can take a while for the format.
Currently, the game mostly offers Sword/Shield: Silver Tempest booster rewards, which is extremely advantageous. Here, you get more tickets to participate, gold coins, secret chests that can come with assorted things like more coins or even rare cards - so if you have them, spend them.
Which sets should I invest in TCGO before migration?
All cards in the block from Sun & Moon to Sword & Shield.
What about the Expanded format?
Apparently it is in the "Beta" phase, but there are records of the use of some cards that, if they have a reprint in new sets, such as a Switch PRC 163 or Rare Candy PLB 105 (respectively from X/Y: Primal Clash and Black/White: Plasm Blast), they can be read for the Expanded format.
But officially, for now, the system only computes cards from Sun/Moon: Base Set onwards in TCG Live. So, if you have any single card that you really want to be migrated from PTCGO to PTCG Live, I recommend these two blocks.
Which sets should I not invest in TCGO before migration?
All cards from the Heart Gold/Soul Silver block, and blocks that come before Sun/Moon, such as Black/White and X/Y.
If you have some of their cards in your inventory, leave it the way it is and hope that the Pokémon Company and the app developer company adjust the game to improve Expanded. Until then, I don't recommend spending your coins to get these blocks and their expansions.
What's still missing from Pokémon Trading Card Game Live
-> Live theme decks are missing: this mode was excellent for beginners who could farm points within the game on the tutorial scale with "tournaments" that the game had against 12 NPCs.
It was possible to win a booster, and some decks came with powerful cards, such as the Black/White Garchomp themed deck, which contained Gabite DRX 89; or the Entei of Sun/Moon who has Welder UNB 189, a core card for the fire archetype.
-> There is an absence of PTCGO format modes. When building decks, there were four options for format choices:
1) Standard;
2) Expanded;
3) Legacy;
4) Unlimited.
In addition to that, there were two additional features of the platform where it was possible to use the "Deck Wizard", which provided a suggestion of decks with your favorite cards and the "import".
-> The lack of the trade system.
Conclusions
I hope the information is to organize for the end of PTCGO. We will miss the old platform!
Now, the thing is to get used to a much greater focus on Standard, and also with the difference in versatility of other styles of game formats, mainly Expanded, which had a reduction in its range of card options.
And that's it, folks. Until the next article.