With the hot news coming from Japan by the special Sub Set, the "151 Kanto Sub Set", I will show in more depth all the information passed so far in a more consistent way, in addition to everything that has been revealed to us so far and an analysis of what may be more relevant.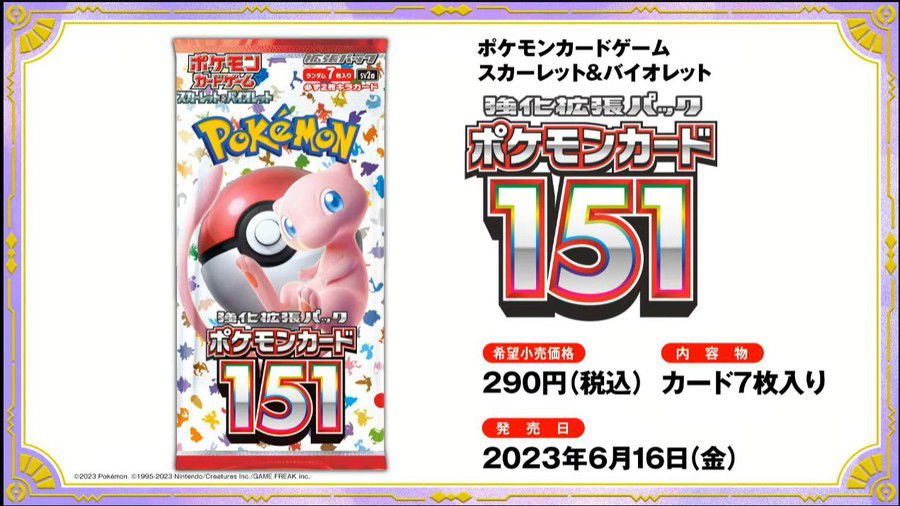 151 Kanto Sub Set
Set information
The expansion will feature 165 cards, excluding the ultra-rare ones, and of those rare ones, there will be around 45 cards, totaling 210 cards.
The expansion is available for pre-order on the official Pokémon Center Store website starting on 6/15 by pre-ordering one box per person, and the expansion will be released on 06/16/2023.
Products
Pokémon Card 151 File Sets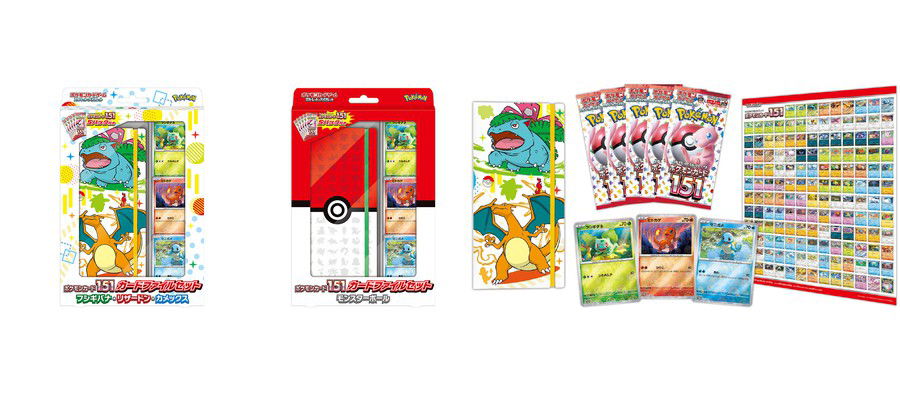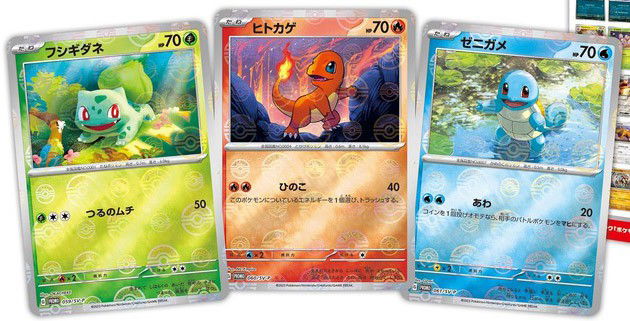 The product will be released on 6/16 for 2,200 yen, which would be around US$15.61.
The product is a type of "binder" to store cards, a poster with a card catalog and 5 booster packs, in addition to the trio of Kanto starters with a different foil effect and different attacks from the base collection.
1) Bulbasaur - Vine Whip (G)(C)(C): Deals 50 damage.
2) Charmander - Ember (F)(F): Deals 40 damage and discards an Energy from this Pokémon.
3) Squirtle - Bubble (W)(W): Deals 20 damage and flips a coin. If heads, the opponent is paralyzed.
Pokémon Center Merchandising
Mew Collection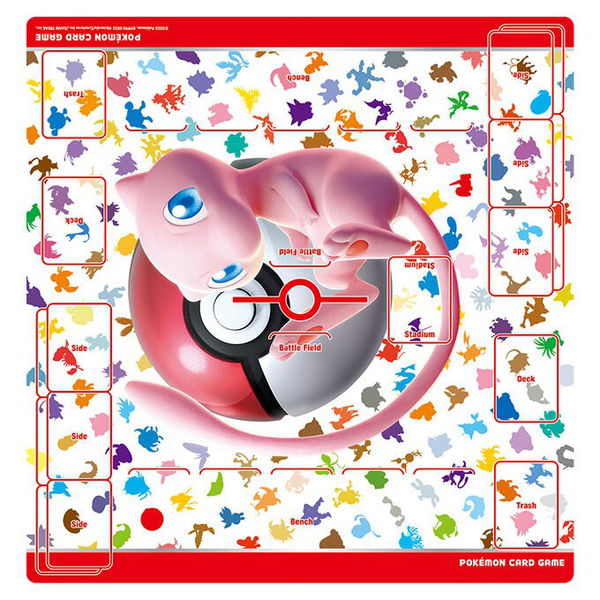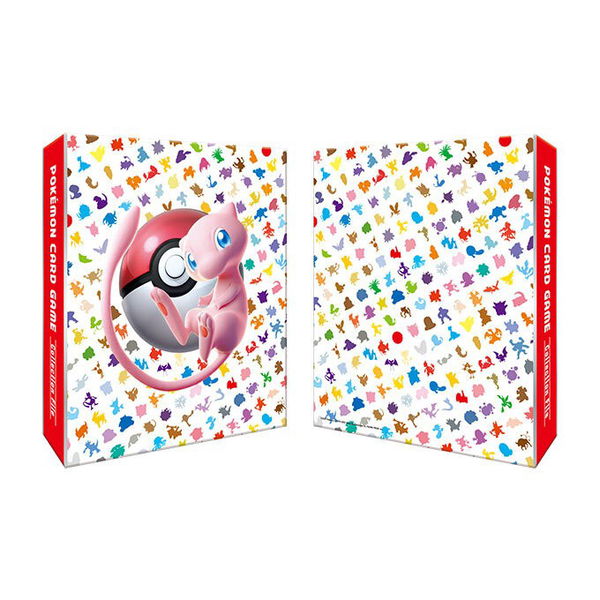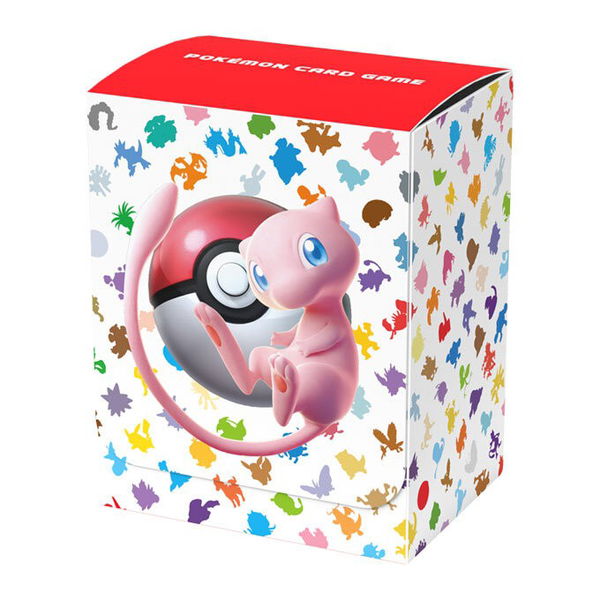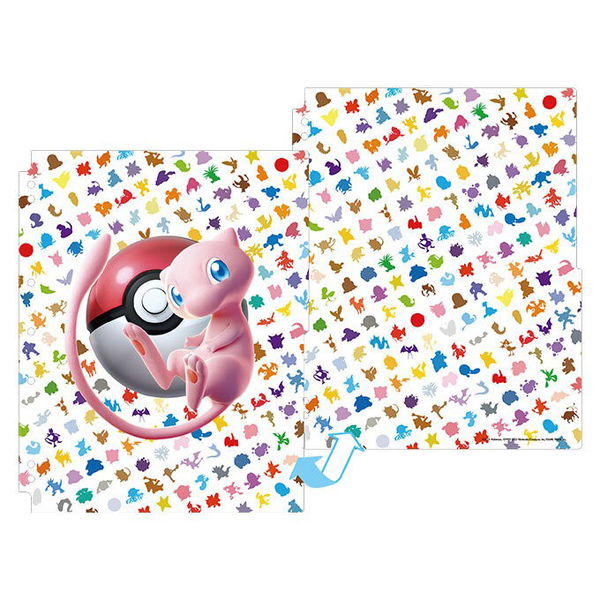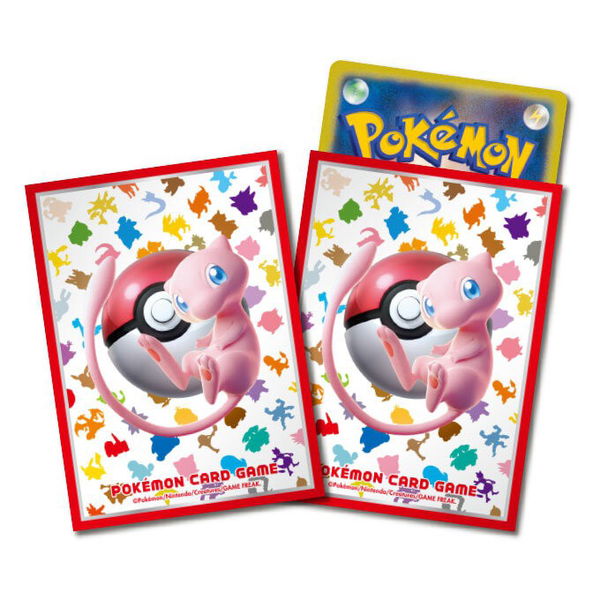 Erika's Deck Box & Sleeves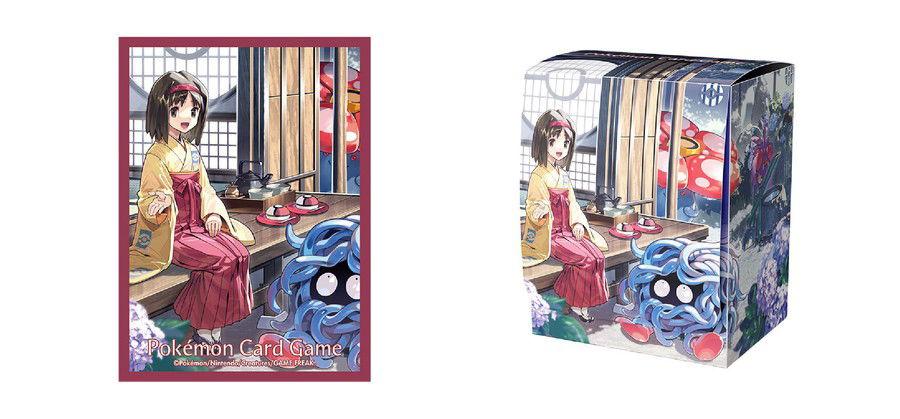 Giovanni's Deck Box & Sleeves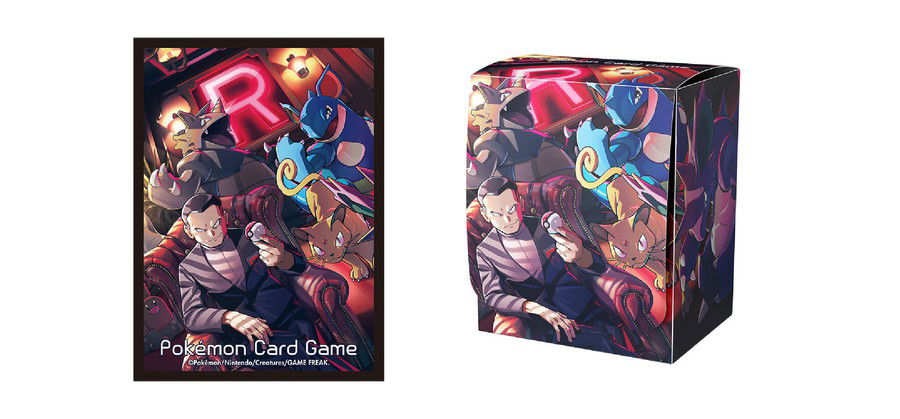 Fairy Sleeve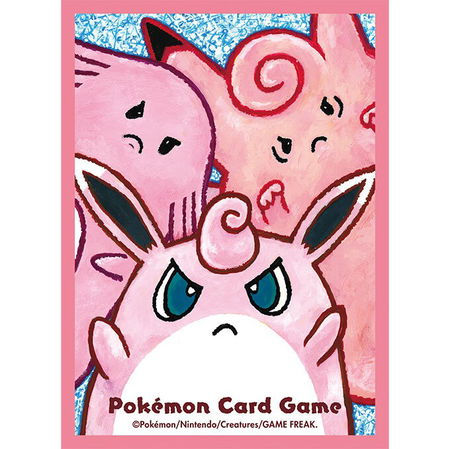 Kanto Initials' Portrait Card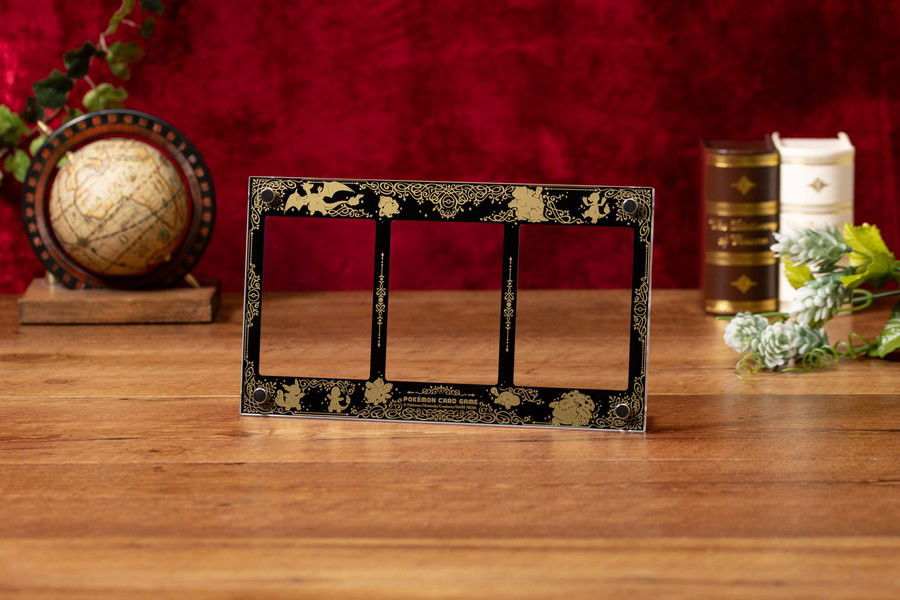 Highlights about the Kanto trio
When we talk about the first generation, it's obvious that they would be on the list: the first starters in Pokémon history.
We have their regular arts and secret cards that also go back to a story being told through the arts, or even an entire mosaic about them.
Bulbasaur, Ivysaur & Venusaur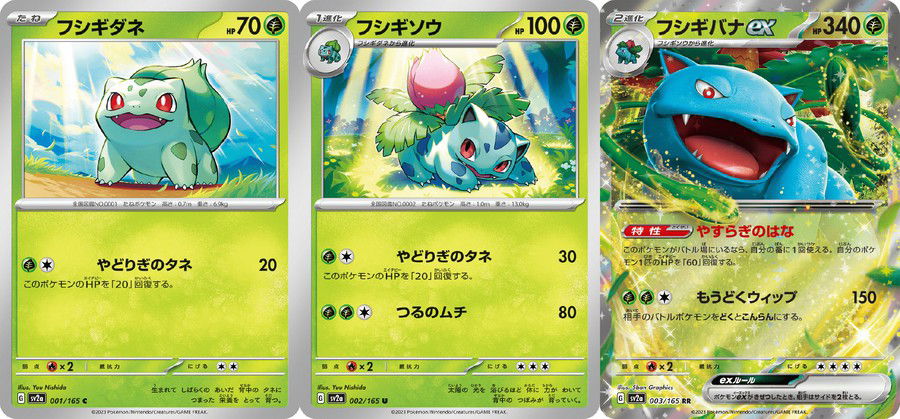 Bulbasaur (G): 70 HP, basic.
- Leech Seed (G)(C): Deals 20 damage and heals 20 damage to this Pokémon.
Ivysaur (G): 100 HP, stage 1
- Leech Seed (G)(C): Deals 30 damage and heals 20 damage to this Pokémon.
- Vine Whip (G)(G)(C): Deals 80 damage.
Venusaur ex (G): 340 HP, stage 2.
- Ability: Soothing Bloom: this Pokémon is in Active Position, you can heal 60 damage from one of your Pokémon.
- Potent Whip (G)(G)(C): Deals 150 damage and the opponent's Active Pokémon is Poisoned and Confused.
Pokémon Ex Rules: When this Pokémon is Knocked Out, your opponent takes two Prize cards.
Charmander, Charmeleon & Charizard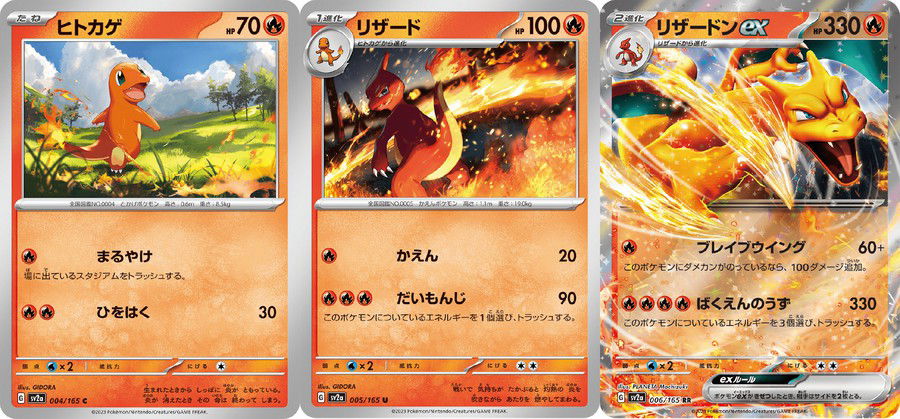 Charmander (F): 70 HP, basic.
- Burn Down (F): Discard a stadium in play.
- Steady Firebreathing (F)(F): Deals 30 damage.
Charmeleon (F): 100 HP, stage 1
- Combustion (F): Deals 20 damage.
- Fire Blast (F)(F)(F): Deals 90 damage and discards an Energy from this Pokemon.
Charizard ex (F): 330 HP, stage 2.
- : Resolute Wings: Deals 60 damage plus 100 damage if Charizard ex has any damage counters.
- Detonating Vortex (F)(F)(F)(F): Deals 330 damage and discards 3 Energy attached to this Pokémon.
Pokémon Ex Rules: When this Pokémon is Knocked Out, your opponent takes two Prize cards.
Squirtle, Wartortle, Blastoise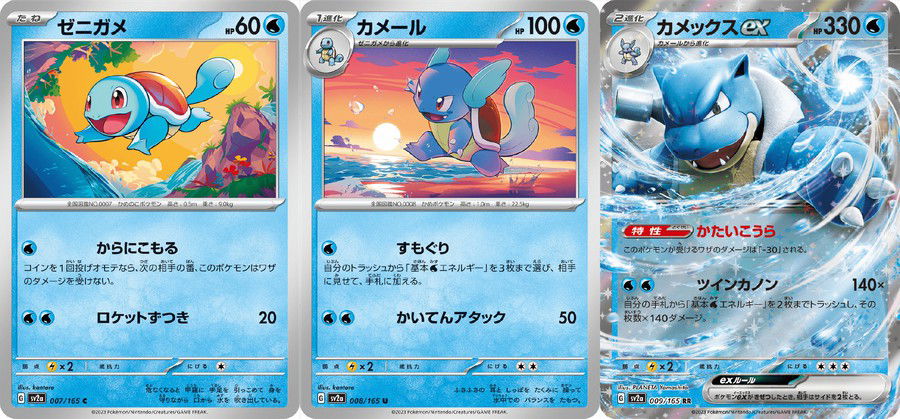 Squirtle (W): 60 HP, basic.
- Withdraw (W): Toss a coin. If heads, prevent all attacks from your opponent's Pokémon to this Pokémon.
- Skull Bash (W)(W): Deals 20 damage.
Wartortle (W): 100 HP, stage 1.
- Free Dive (W): Put 3 basic Water Energy (W) from your discard pile into your hand.
- Spinning Attack (W)(W): Deals 50 damage.
Blastoise ex (W): 330 HP, stage 2.
- Ability: Solid Shell: This Pokémon takes 30 less damage from attacks.
- Twin Cannons (W)(W): Deals 140 damage times for the number of cards you can discard, up to two basic Water Energy from your hand, if performed this way.
Pokémon Ex Rules: When this Pokémon is Knocked Out, your opponent takes two Prize cards.
Kanto Trio's Full Arts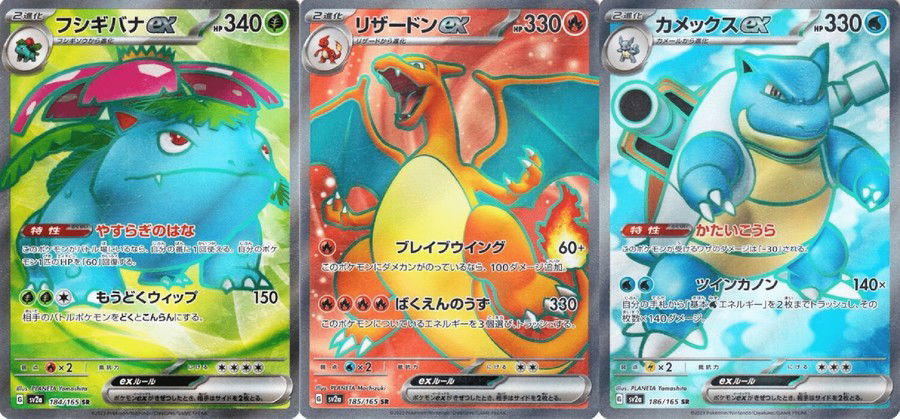 Kanto Trio's Secret Arts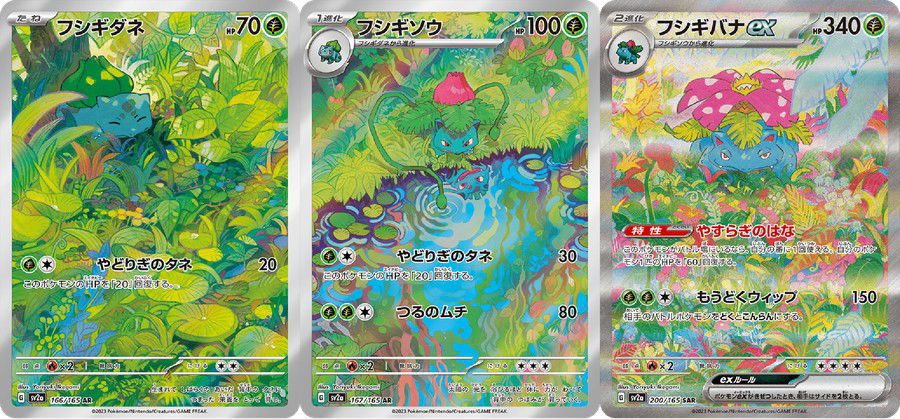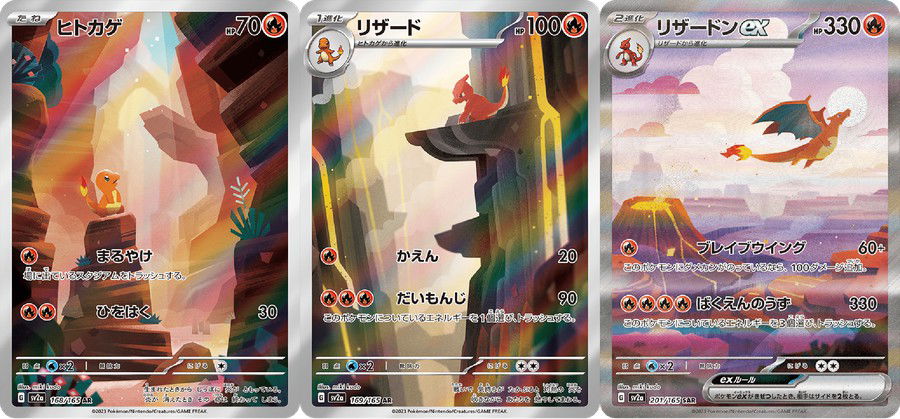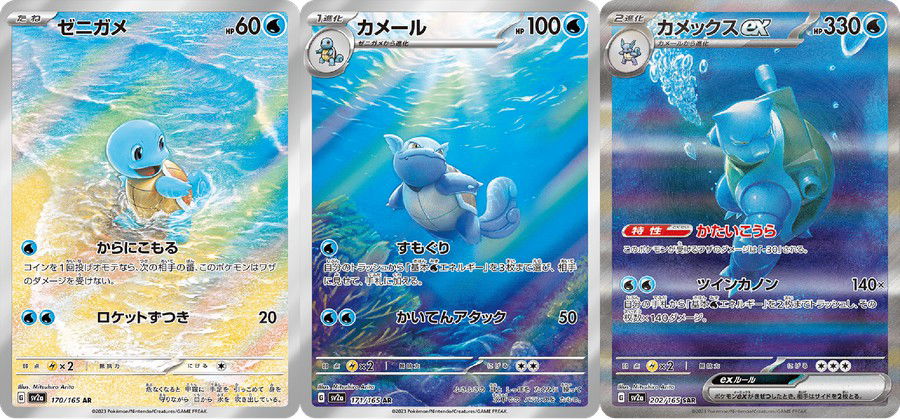 End of Abra's evolutionary line controversy
Years ago, for more than a decade, there was a lawsuit from the illusionist Uri Geller over the Pokémon Kadabra: its Japanese name in romanji was very similar to its name (Yungerer), and there was also the use of the spoon crowd, which was a "signature" gesture of the artist, who accused Pokémon of plagiarism.
Because of this, many Pokémon cards could not use Kadabra, and as a strategy to circumvent this problem, the company often made Abra have attacks that accelerated its evolution directly to Alakazam, as in Diamond/Pearl with the Abra MT 69 to Alakazam MT 2, and at the beginning of the Base Set and Neo from Wizards of the Coast, there were still these cards with the complete evolutionary line.
But now, after years, this legal fight is finally over, and we have the return of these cards and with news: Alakazam ex debuts a new mechanic, where its second attack, the Dimensional Manipulation (P)(P) can be used even if Alakazam is benched, being the first Pokémon in history to be able to attack without needing to be in active position.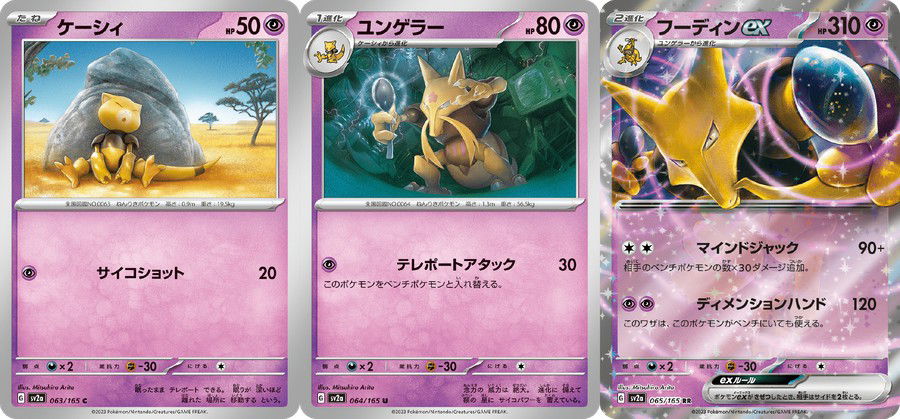 Card Analysis
Pokémon ex with potential
Ninetales ex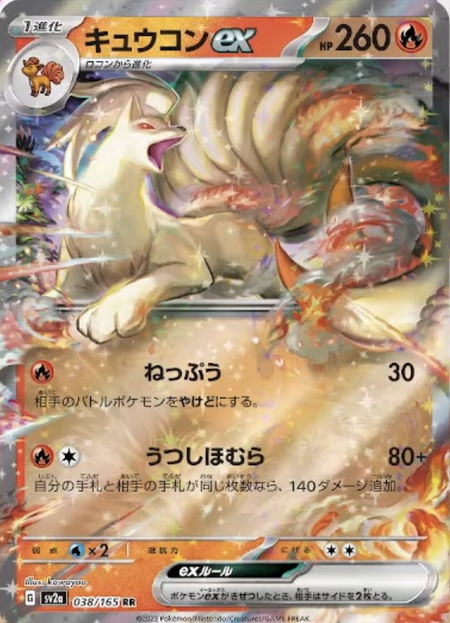 - Heat Wave (F): Deals 30 damage and the opponent's Active Pokémon is Burned.
- Mirrored Flames (F)(C): Deals 80 damage plus 140 if you and your opponent have the same number of cards in your hand.
Basically, if you play the card Judge sv1 176, it's the ideal move for Ninetales ex to have its potential exploited. With only two Tribute Energy, this is damage that can be quickly assembled.
Golem ex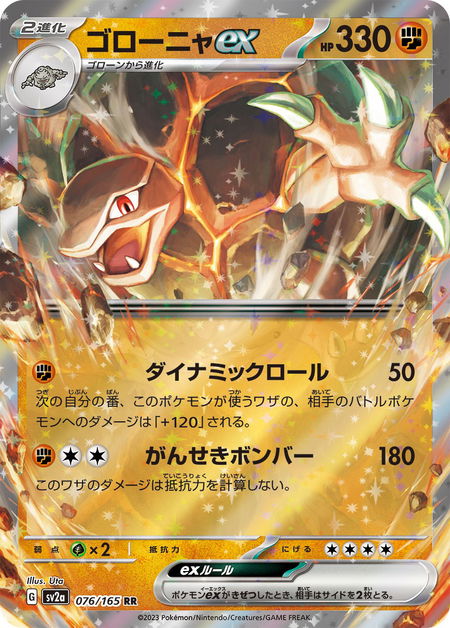 - Dynamic Roll (F): Deals 50 damage and on the next turn, this Pokémon does 120 more damage (before applying Weakness and Resistance).
- Rock Bomber (F)(C)(C): Deals 180 damage and is not affected by resistance.
With the launch of Paldea Evolved
with fighter-type Pokémon, such as Tingu-Lu ex, which with its ability can take away abilities from Pokémon it has any damage counter, in addition to the Hawlucha sv1 118 combo, the Golem ex can be a good acquisition for the archetype.
It is still possible to rely on support cards such as Rock Chestplate sv1 192 to provide durability and power up with Gutsy Pickaxe ASR 145 and additional attack with Grant ASR 144.
Kangaskhan ex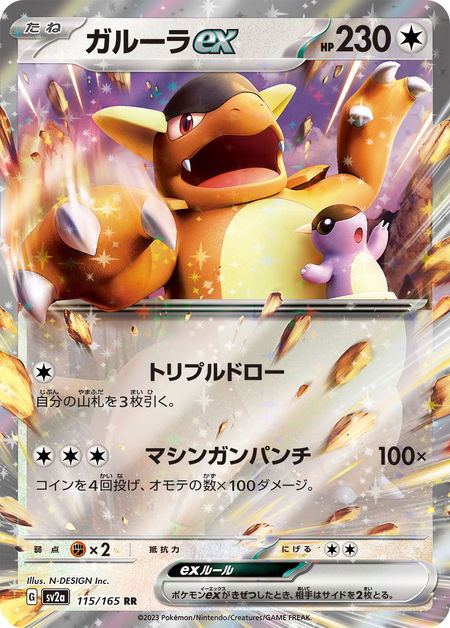 - Triple Draw (C): draw 3 cards.
- Machine Gun Punch (C)(C)(C): Throw 4 coins. The damage is 100 times the number of heads that are hit in the process.
With a potential of 300 to 400 damage, Kangaskhan ex is quite interesting to be studied to fit into a deck.
As much as it is risky to depend on luck with coin flips, we cannot rule out some possibility of playing with him. Even more so because, in the Expanded format, there are cards that circumvent the effect of coins, guaranteeing consistent damage with it.
Jynx ex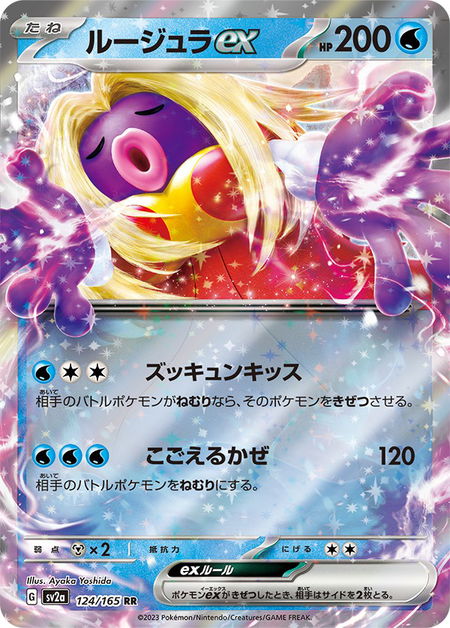 - Ba-Dum Kiss (W)(C)(C): If the opponent's Active Pokémon is asleep, it is automatically Knocked Out.
- Icy Wind (W)(W)(W): Does 120 damage and the opponent's Active Pokémon is asleep.
Jynx ex is a great Pokémon for the format, even with reinforcements for powering up the water archetype, since Baxcalibur, from Paldea Evolved* arrived in the expansion.
In the Expanded format, cards like Hypnotoxic Laser PLS 123 are trivial to use in combination of the effect with Jynx ex's first attack.
Zapdos ex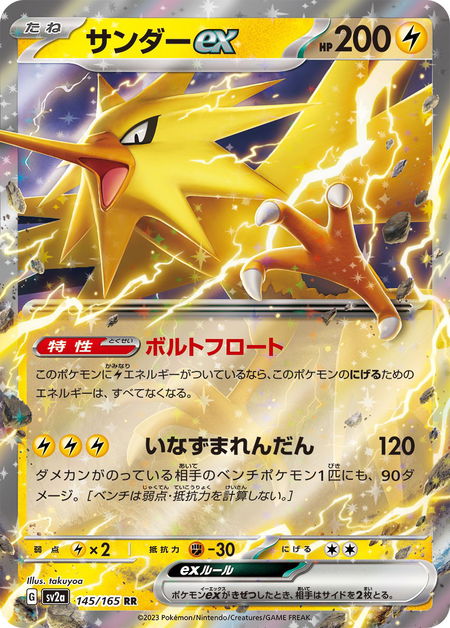 - Ability Bolt Float: if this Pokémon has any electrical energy, it has no retreat cost.
- Multishot Lightning (L)(L)(L): Deals 120 damage, plus 90 damage to an opponent's Benched Pokémon that has any damage counters on it (doesn't apply Weakness or Resistance).
With the card Electric Generator sv1 170 in the Standard format as one of the resources, Zapdos ex is a powerful Pokémon to deal "sniper damage", even more so with the Pawmot that came in Paldea Evolved because the entire evolutionary line works with sniper damage.
We still have the possibility of using Jolteon VMAX EVS 51, since it still has the regulation letter E, for the possibility of combos.
Mew ex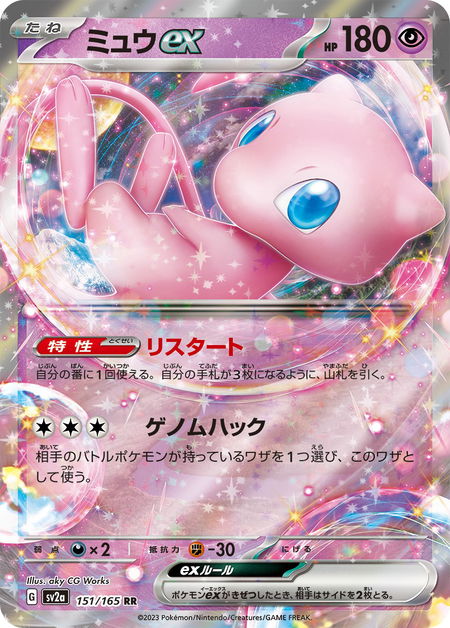 - Restart skill: draw until you have 3 cards in your hand.
- Genome Hack (C)(C)(C): You choose one of the opponent's Active Pokémon's attacks and use it.
It is similar to Mew-EX DRX 46, with the proposal of "copying attacks", except that the difference is that in this version of the card it is an attack effect and not a skill, as in its previous version.
Although the Tribute Attack Cost is high for a basic Pokémon, there are still three Power-Up Potential Pokémon: Cresselia CRE 64, Shadow Rider Calyrex VMAX CRE 75 and Gardevoir ex sv1 86.
"baby" Pokémon with potential
Nidoqueen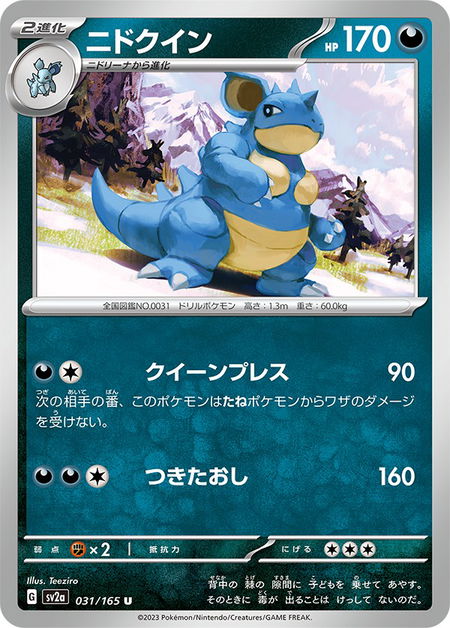 - Queen Press (D)(C): Deals 90 damage. And during the next turn, this Pokémon won't take damage from the opponent's Basic Pokémon.
- Lunge Out (D)(D)(C): Deals 160 damage.
Nidoqueen is just one small key to the puzzle for decks that use combination with Nidoking, which also has additional effects with it in play.
Nidoking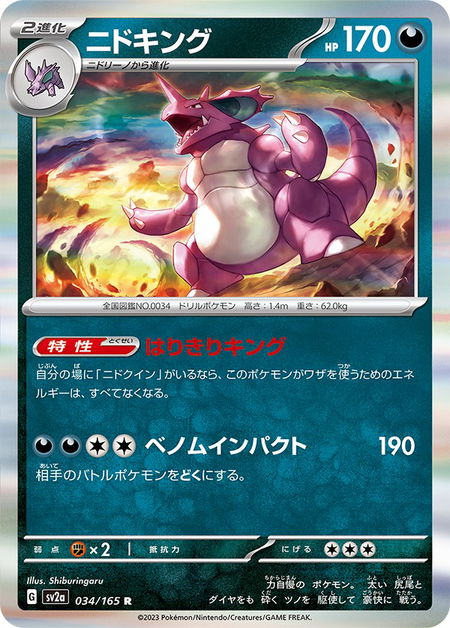 - King's Vigor Ability: If Nidoqueen is benched, this Pokémon has no attack cost.
- Venom Impact (D)(D)(C)(C): Deals 190 damage and the opponent's Active Pokémon is Poisoned.
As explained above, Nidoking has a combination effect with Nidoqueen, and with that, it has no energy cost to deal damage. This makes, for example, a casual game of a format like Silver Pauper
, which doesn't use ultra rares, a very interesting option.
Machamp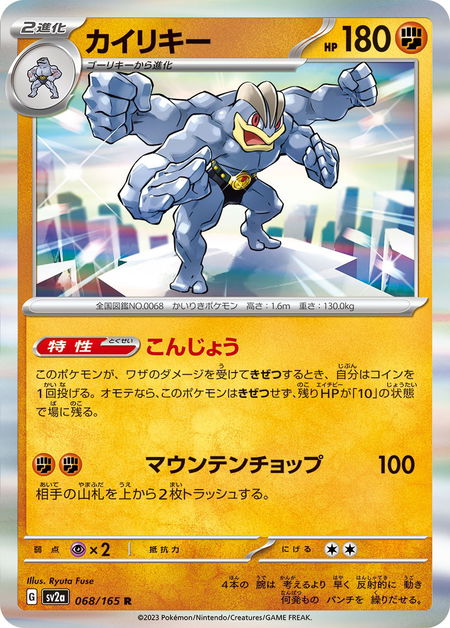 - Ability Guts: If this Pokémon is knocked out by damage from the opponent, flip a coin. If heads, this Pokémon returns to play with 10 HP.
- Mountain Chop (F)(F): Deals 100 damage. Discard the top two cards of your opponent's deck.
In Standard, it can play with Emergency Jelly SIT 155 to restore its life, in addition to being able to play alongside Krookodile sv1 117 for possible combinations to control the opponent's deck.
Machamp is an interesting Pokémon for the Expanded format, as it can have combinations with the tool Focus Sash FFI 91 as a complement to its ability.
Dodrio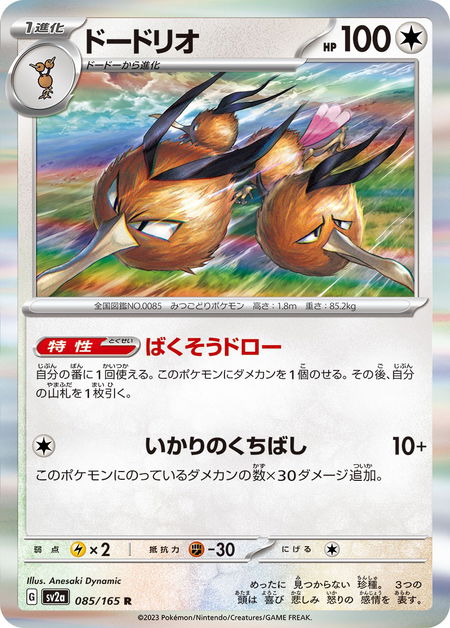 - Ability Rampage Draw: You can put a damage counter on this Pokémon and if you do, you can draw a card.
- Raging Beaks (C): Does 10 plus 30 damage for each damage counter on this Pokémon.
A very useful Pokémon: aggressive with an energy, reaching up to 280 damage (9 markers x 30 = 270 damage, plus 10 base damage) and still with a very useful "draw power" with its ability.
Gengar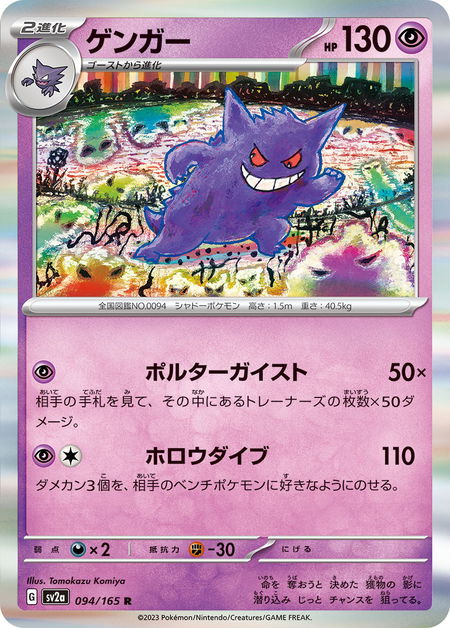 - Poltergeist (P): You can look at your opponent's hand. This attack deals 50 damage for each Trainer card you find there.
- Horror Attack (P)(C): Deals 110 damage and puts 3 damage counters on your opponent's Benched Pokémon in any way you like.
Basically, it's a "single prize" version of Gengar & Mimikyu-GX TEU 53 that has the same attack. It's a powerful "baby" Pokémon to play with, as it attacks for just one energy.
Dragonite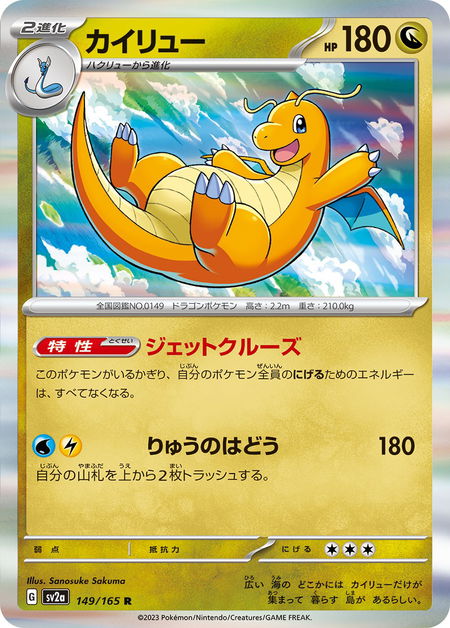 - Ability Jet Cruise: your Pokémon in play has no retreat cost.
- Dragon Pulse (W)(L): Deals 180 damage, and you discard two cards from the top of your deck.
A formidable specimen of Dragonite that we had the grace to receive! No doubt it will be strong for a causal format like "Silver Pauper".
In the Expanded format, along with Dragonite TEU 119 with the ability to search each turn for a Supporter card from the deck, the dragon archetype has a powerful new addition!
Trainer Cards
Here we will have some good news regarding Japanese foil. The effects of cards between countries have a big difference, and in the leaks posted recently, it was revealed to us that they will be in Pokéball formats, such as Classic and Master, vaguely reminiscent of what we had in the expansion Fire Red/Leaf Green , in the Ruby & Sapphire block.
Here's hoping the western version has the same kind of quality, which isn't always achieved in every print.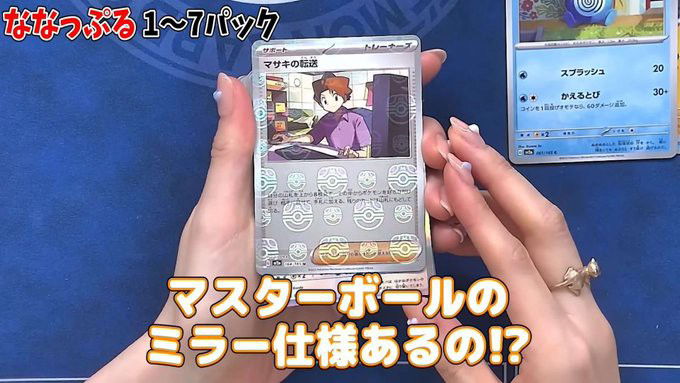 Giovanni and Erika, the Kanto Gym Leaders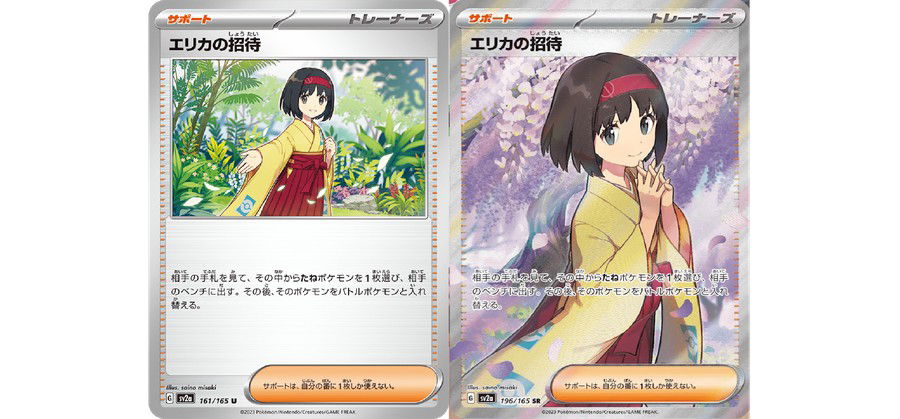 Effect: Your opponent reveals their hand, and you choose one of the Basic Pokémon you find there and put it on their Bench. And then it will switch to the active position.
It has an effect similar to the combination of the ability of Mawile-GX UNM 141 with a Boss's Orders RCL 154, and can be a decisive card to close KO against a low-HP basic Pokémon.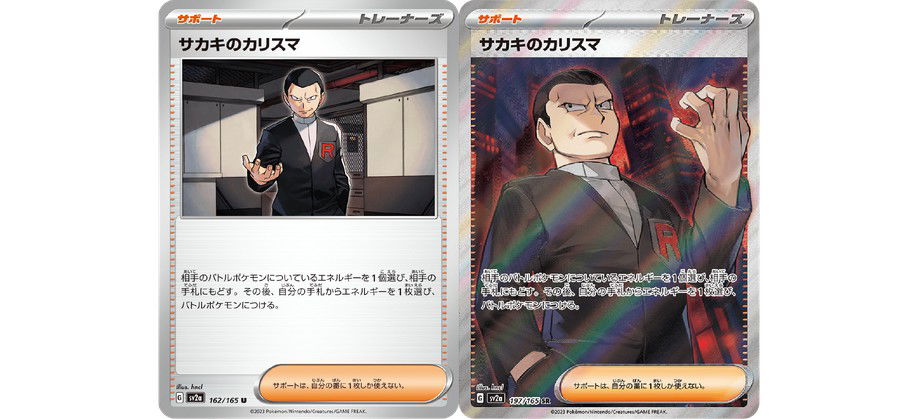 Effect: Take an Energy from your opponent's Active Pokémon to return it to their hand, and if you do, you may attach an Energy from your hand to your Active Pokémon.
Here we have a control against the opponent and a speed bonus for yourself, joining the mechanics of Team Flare Grunt GEN 73 (of course, not discarding his energy, but making it return, delaying the opponent's game) with the Bede SSH 157 (which is not powering up the Benched Pokémon, but its Active).
And this energization is between the lines for now, as the card does not specify whether it is a basic energy or a special energy, which can be interpreted that any of the energies can be worth the effect. To solve the doubt, only use it on PTCG Live when the expansion arrives, or even with a Pokémon TCG judge who knows the card.
Tools
The most interesting ones in the set are: Safety Googles, Big Balloon and Rigid Band (from left to right).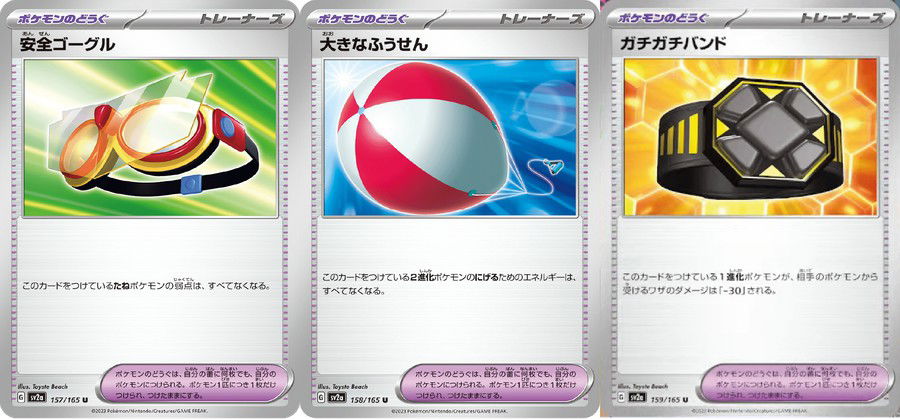 1) Safety Googles - The basic Pokémon that has this tool equipped has no weaknesses
2) Big Ballon - Stage 2 Pokémon that have this tool equipped will have zero retreat cost (it's practically a Float Stone PLF 99 for stages 2).
3) Rigid Band - The Pokémon that has this tool equipped will receive 30 less damage from attacks (after applying weakness and resistance).
Stadiums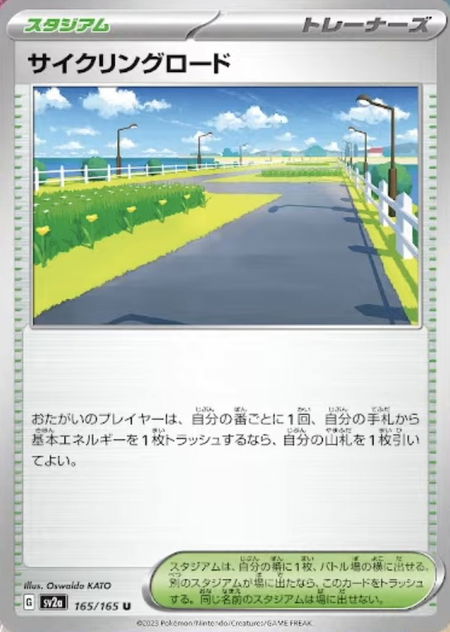 The only one shown in the set, and has an interesting description.
Effect: During each player's turns (both you and your opponent), you may discard a basic Energy card from your hand. And if they do, these players can draw a card from the top of the deck.
Wonderful illustrations in 151 Kanto Subset
To close the news, this set is full of new and beautiful illustrations, and of course, I'll highlight some!
Mew ex
The art of Mew ex has an interesting effect on its foil: when moving the card, you can notice the sunrise in the background of the scenery.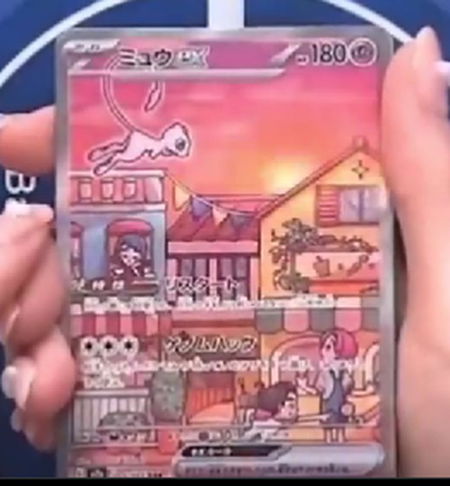 Mewtwo
Again, the excellent artist Akira Egawa (the same one who made the arts for Mewtwo V-Union and the gods of Sinnoh in the Trainers Gallery of Crown Zenith, quoted in this article
) returns with another work in his portfolio with the regular version of Mewtwo.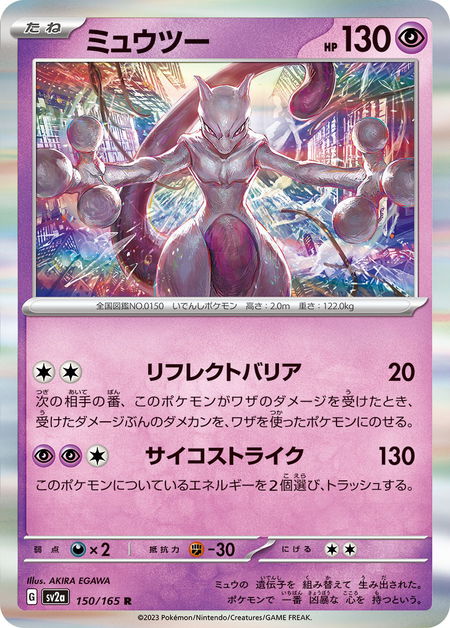 And the most impressive part of the art is also its secret art, which makes a good reference in Pokémon animation media, which portrays Mewtwo near big cities as in the opening of the sixth film (Pokémon M06: Make a Wish) and the movie with Genesect in the Black/White saga (Pokémon M16: Genesect and the Legend Awakened), as well as the Pokémon GO version, in this case Mewtwo V PGO 72.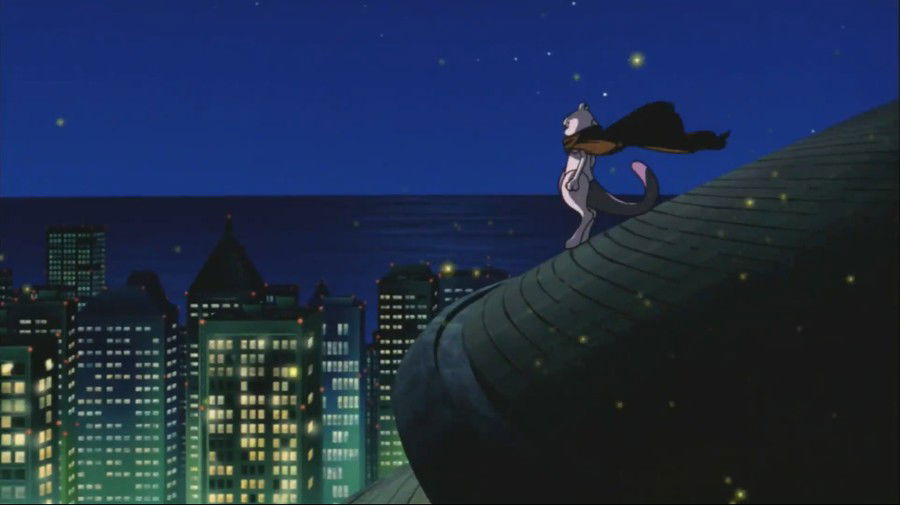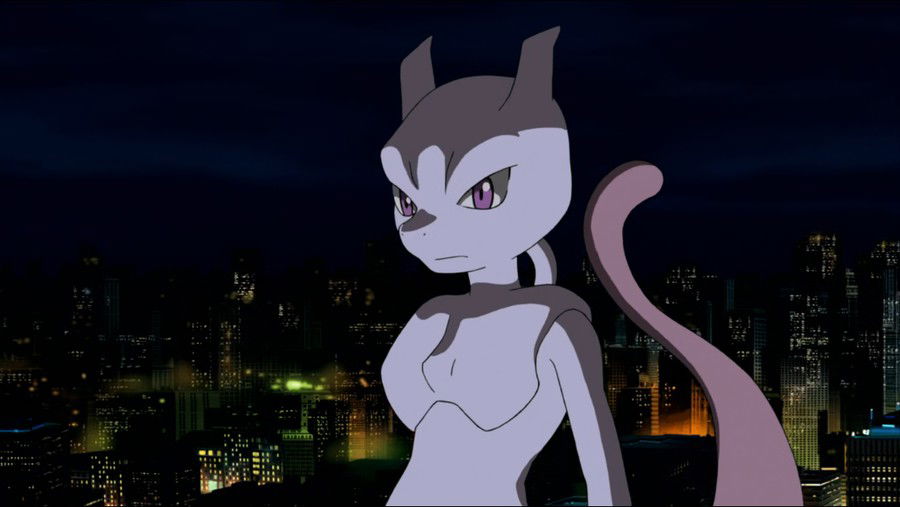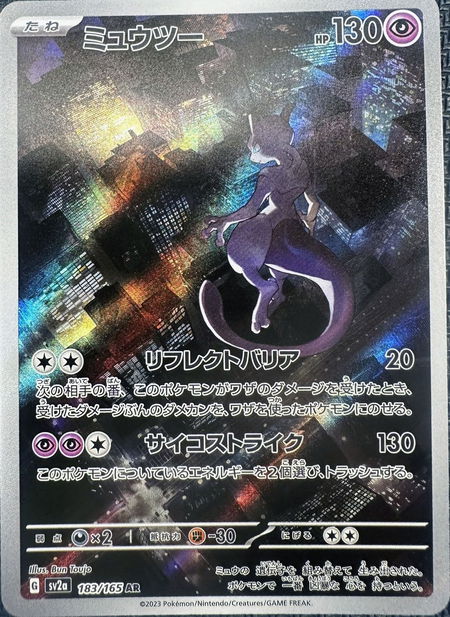 Zapdos ex and companions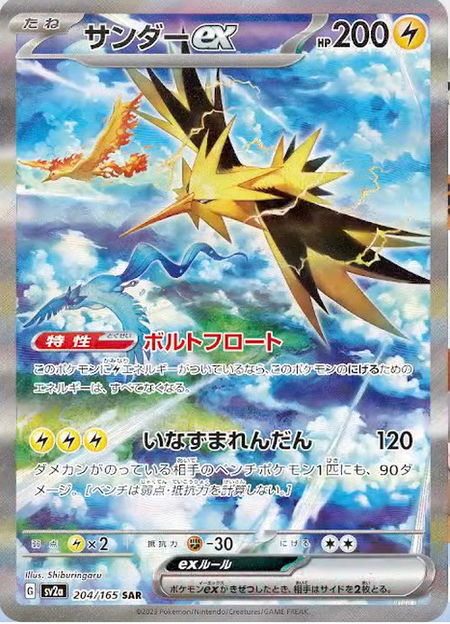 Despite not being a fan of Zapdos, this art is magnificent, showing the birds in their exuberance flying over the skies, bringing back memories of their art referring to their versions of the Sun & Moon block with the Hidden Fates expansion.
Telling stories
As the expansion plays with nostalgia and creativity, some Pokémon have illustrations of the continuation of their actions or situations in scenarios based on the base set art from Wizards of the Coast, as in the examples below: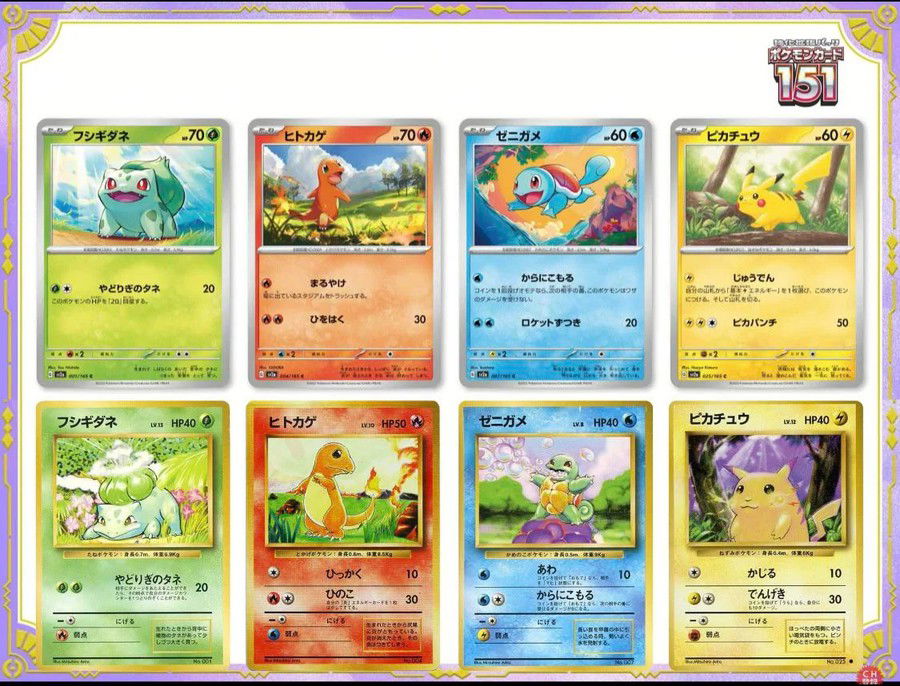 We also have Abra, which in the old card was hidden in the tree and in the new art, it teleported behind a local rock, changing its location.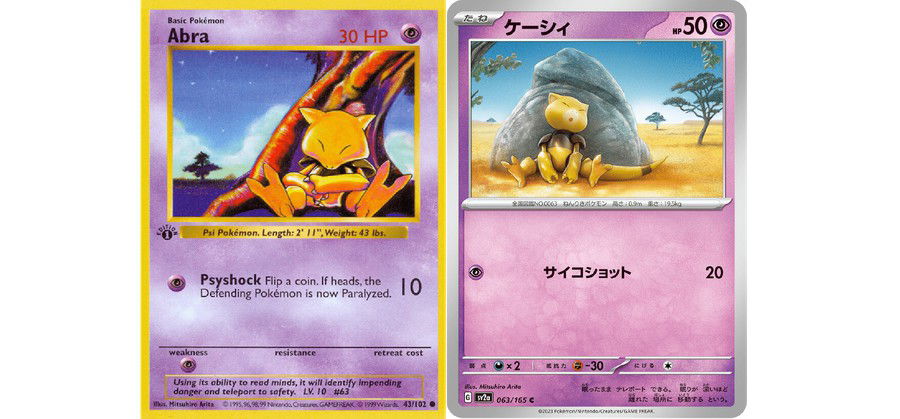 And finally, we have Porygon with a reinterpretation of the card: the current art has a clay-like texture, as if it were an archaic and childish 3D modeling.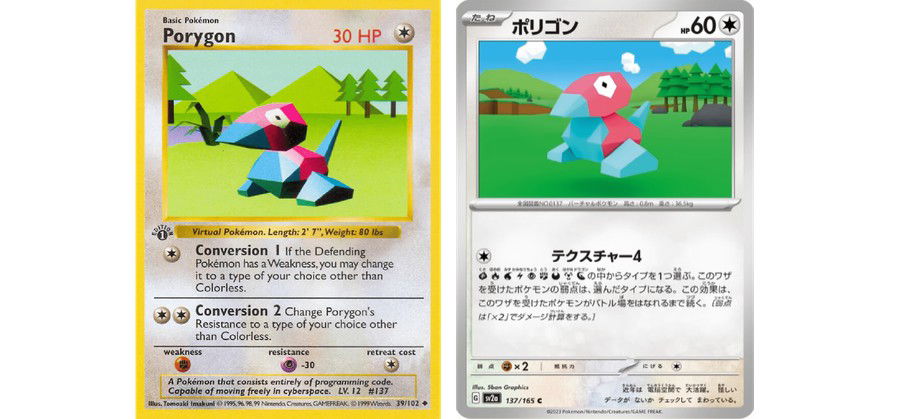 Conclusions
It is a release that will probably be very coveted by collectors, the main target audience, since there are few playing cards with a competitive nature.
The entire set tends to increase in value in the long term, as is the case with Celebrations
and Pokémon GO.